Crowninshield
Edit
Crowninshield-Bently House
Edit
The Crowninshield-Bently house was bult for Capt. John Crowninshield, who died on 24 June 1766, about in between the years of 1727 and 1730. It is located at 126 Essex Street, Salem, Essex, Massachusetts. In 1959 Frederick Josiah Bradlee, Jr., my paternal grandfather moved it to it current location. According to my father, the house was going to be torn down for a parking lot but my grandfather found out about the news and descided to save the house. During the years of 1791 and 1819 the diarist and reverend William Bently lived in the house and recorded much of the actions of the Crowninshield family.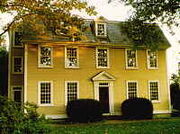 Clifford Crowninshield Mansion
Edit
The Clifford Crowninshield Mansion was designed by Samuel McIntire, who was a famou house builder in Salem, Massachusetts. The construction of the house started in 1804 and finnised in 1806; it is a Fredery style mansion and is located on the southeast corner of Salem Common. Clifford was a son of John Crowninshield and Mary Ives and married on 9 Jun 1805 to Elizabeth Fisher who was born on 5 Sep 1785. Clifford Crowninshield was born in Salem, Essex, Massachusetts about 1762 and died on 3 Jun 1809.
Benjamin Williams Crowninshield
Edit
Salem Mansion
Edit
The Benjamin Williams Crowninshield Salem mansion was built inbetween the years 1810 - 1812 also built by Samuel McIntire, however only the begining of the constrution of the house was started by McIntire and finsihed by his son Samuel Field McIntire, since Samuel Sr. died during the beginging. Crowninshield was the 5th United States Secretary of Navy from 1815 to 1818 under the Presidents Madison and Monroe. In 1820 there was a Greek Revival front porch that was added on and then in 1906 the rear of the house was expanded and once again in 1916. In 1861 the mansion was used for a home for aged women and it was presented by Robert Brookhouse.
Summer Mansion
Edit
Elias Hasket "King" Derby House
Edit
Elias Hasket "King" Derby Mansion
Edit
Gardiner-Chandler House
Edit
Gardiner's Manor
Edit
Garidner's Manor was originally built by Capt. Lion Gardiner, who purchassed the Island in 1639 from the Indians because of his support that he had for them during the Pequot War.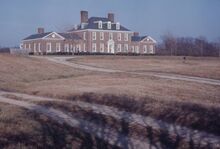 Naumkeag Mansion
Edit
Naumkeag was built for Joseph Hodges Choate, who was the U.S. ambassador to Great Brittain appointed by President McKinley in 1899 and my third great uncle.
Refferences
Edit